A Hundred Peaks - page 10

Back to local hikes

No chance to go hiking until Spring Break, and just one day then, March 31. So, nothing too far-flung. It is nice to have so many hikes in the San Gabriels, because they lend themselves to a one-day excursion. I had thought of one of the higher peaks, but apparently there was still some snow, and more importantly, ice, on the upper slopes, so I decided to play it safe (just for a change). The other advantage of this is that the lower peaks can get rather warm in the summer, so this is a great time to hike them.


No hiking since the semester began in January, which is typical, but I wanted to get something in during Spring Break. Since mot of the time was spent grading and doing other work-related stuff, in desperation I took off the Saturday, which was March 31, and nipped up to the San Gabriels.

The higher elevations had some snow (and ice), and the Angeles Crest Hwy is closed seasonally about 20 miles along, preventing access to some of the more remote peaks, so I decided on a couple of lower-elevation, close-in peaks that I had not yet done. These had been closed access after the Station Fire in 2009 but were now open - Occidental Peak and Mount Markham, both close to Mt Wilson.

I started out on a rather gloomy morning, with 30% rain probability forecast for the mountains, but I figured, short hikes on use trails or trails, no problem. As I started up the Angeles Crest Hwy I was getting into denser and denser cloud, at one point down to about 100 ft visibility. But coming out onto the crest itself, and it was glorious sunshine. From the turnoff to Mt Wilson there was a wonderful view of the clouds from which I had just emerged. At the Occidental Peak trailhead it wa salmost 70 degrees, clear and sunny.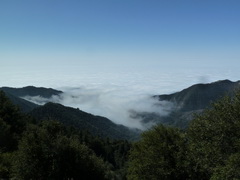 The view from Red Box, on the Angeles Crest Highway

It was very foggy going up onto the Angeles Crest, at one point, just before the ranger station, down to about 100 ft visibility. I was imagining that my navigation skills would be challenged, but once on the top the sky cleared to an intense blue. Spectacular. The rest of the day I was looking down on the clouds - a great way to hike.

From the peaks it still looked this way

Arrived at the parking area for Occidental Peak at a little before 11:00. It was a very pleasant 70 degrees, and the trail started with a quick scramble up a bank, thence to a fence. Another trail even I can follow (and could have even if it had been in the clouds). The fence is around some communications equipment, and it ends at a helipad. From there, the easiest trail is to skirt the ridgeline, keeping just to the north of it. The trail was quite clear, occasionally cairned, often perilously close to the road (but quite a vertical separation from it), and very pleasant. It was well-wooded, mainly oak.

Just follow the fence . . .

and then keep the ridge to your left (this view is on the way back)

It's a very short hike (less than 2 miles round-trip), and I was back at the car in about an hour and 20 minutes, having stopped to admire the view, watch birds, and just generally chill.

San Gabriel Peak from the Occidental Peak trail

Next up was Mount Markham. The trailhead is just a little back up the road from that for Occidental, at a place called Eaton Saddle. The hike starts on an old road, dirt and no covered with loose rocks that have sloughed off the slopes above. Not far along is a rather nice tunnel. One tries not to think of earthquakes when hiking features like this.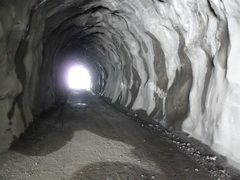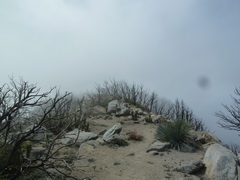 San Gabriel Peak again, this time from the Mt Markham trail

The light at the end of the tunnel is not an oncoming train

The road ends at Markham Saddle, so then a trail

From Markham Saddle there is a very nice trail, well-maintained (in fact, there was a volunteer crew maintaining it). It even has a number, 12W14, although the sign that would tell you that is illegible. The Station Fire came through this area in 2009, and plant regeneration is slow. The clouds were always threatening to ascend from the valleys, so I kept a close eye on the trail - looking for significant landmarks in case visibility went to zero - while still getting a hiker's high from the spectacular views.

The use trail from 12W14 to Mt Markham is pretty clear. Basically it runs along a ridge, so you cannot go too far wrong (assuming you intend to keep on living)

Close to the peak, and the clouds looking ominous

While I was on the summit, another hiker showed up - a rare occurrence. But I took advantage of the situation to get a photo of something other than my nostrils, which is all I can do when I take self-portraits.

The hiker's high - summiting!

One of the vistas that contributed to the high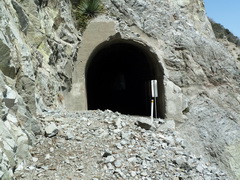 That nice ridgeline trail

Back into the tunnel. Watch for falling rocks. And concrete.

Back to car in a little under 2 hours, after about 3.2 miles. A nice, very leisurely, pace, with enough time to really enjoy the experience. I consider myself very lucky to have mountains like this almost in my backyard.

And then it was June

No chance to go hiking during the rest of the semester, then work-related travel until mid-June. So, as soon as home, hiking. I decided to celebrate Fathers' Day with a couple of local peaks - there are so many in the San Gabriels still, I won't run out of local hikes for a while. And since it has been a bit since I was up in mountains for a serious hike, I decided to do something mild. Middle Hawkins and Mt Islip appeared to fit the bill.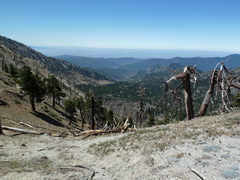 Up the use trail from the Angeles Crest Highway to Windy Gap on the Pacific Crest Trail

The hike for these two peaks starts at Mile 66.37 on the Angeles Crest Highway. There's a pulloff that is definitely wide enough to be safe, and the use trail is very obvious leading up the slope alongside a gully. It's rather a steep way to start the day, but the alternative was a couple of extra miles each way along the PCT. Worth a short haul. I had had a leisurely start to the day, so I wasn't on the trail until 11:00.

From Windy Gap, which is only about 10 minutes up from the road, the route goes east on the PCT. Given this is a long-distance trail, grades are gentle, and switchbacks common. That made for a very pleasant hike for the next mile and a half or so. It was quite warm (my thermometer seemed convinced it was over 80 degrees), but there was a good breeeze and it didn't feel that hot. I did end up with sunburned knees, however. I was quite radical and removed the legs off my hiking trousers. As shorts they come to just above the knee, almost to be met from below by my socks. Almost. Two very red kneecaps resulted from this poor planning. Anyway, the use trail to Middle (and South) Hawkins was easy to find and follow, as was the summit trail up to Middle Hawkins itself. All in all very stress-free hiking.

A view from along the PCT

View from atop
Middle Hawkins

It only took an hour and a quarter for this part of the day, so I rested and snacked up there - saw two other people (with a dog) - not bad for a Sunday in summer. Once rested, back to Windy Gap and then heading west up Mt Islip. Another trivial route-finding exercise - not only a clear trail but wooden directional signs as well. I'm getting spoiled. Oh, not only that, but this trail had switchbacks, too.

Tells me where I am, points me where I want to go.

And makes it easy to get there

Very, very pleasant walking

Mt. Islip is a rather popular hike, and I saw more people up there than I have seen on most hikes - there must have been six or seven others up there. Still, I really cannot complain. Most places this close to a major urban center would be overrun, and everyone up there was there for the right reasons - quietly enjoying being outside, in the mountains. Almost restores one's faith in human nature.

Ruins of a cabin on Mt Islip

Celebrating Fathers' Day while sporting a natty headpiece.

From there it was, pretty much literally, all downhill. Even the steep use trail back to the highway seemed gentle on my knees. I was back at the car by 3 pm - a little under four hours for a little over six miles, with plenty of time to sit and enjoy the views (and my jerky, nuts, and raisins) and spend a little time birdwatching as well. Ahhhhhh.