A Hundred Peaks - page 12

No hiking since the semester began in January, which is typical, but I wanted to get something in during Spring Break. Since mot of the time was spent grading and doing other work-related stuff, in desperation I took off the Saturday, which was March 31, and nipped up to the San Gabriels.

The higher elevations had some snow (and ice), and the Angeles Crest Hwy is closed seasonally about 20 miles along, preventing access to some of the more remote peaks, so I decided on a couple of lower-elevation, close-in peaks that I had not yet done. These had been closed access after the Station Fire in 2009 but were now open - Occidental Peak and Mount Markham, both close to Mt Wilson.

I started out on a rather gloomy morning, with 30% rain probability forecast for the mountains, but I figured, short hikes on use trails or trails, no problem. As I started up the Angeles Crest Hwy I was getting into denser and denser cloud, at one point down to about 100 ft visibility. But coming out onto the crest itself, and it was glorious sunshine. From the turnoff to Mt Wilson there was a wonderful view of the clouds from which I had just emerged. At the Occidental Peak trailhead it wa salmost 70 degrees, clear and sunny.

A Hundred Peaks - page 16

Saturday July 7, 2018 Wild Mtn View and Pine Mtn Ridge

It was really hot in the Los Angeles Basin (it hit 108 degrees in San Pedro), so I wanted to get out of the heat and up to cooler elevations. I picked the San Gabriels above Wrightwood, for a couple of peaks over 7,000'. Not terribly high, but I hoped it would be enough. I reached the trailhead at the Lupine Campground, elevation 6,600', after a long drive down a 4WD road from about 8,400'. The road was in good shape, so I didn't have to switch out of 2WD, but more of this later.

At the trailhead it was already 79 degrees (but it had been over 100 before I headed up into the mountains, at 8 am), but I figured that would be fine. I had enough water, and I wasn't going very far.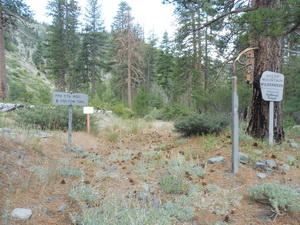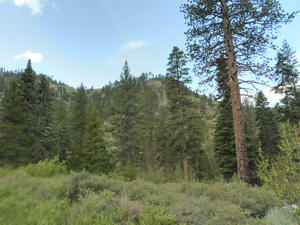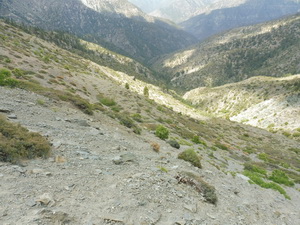 Looking up to where I'm heading

The trail was really nice - well-contoured so there were no unnecessarily steep parts, and it was well used (after a bit of confusion right after the trailhead where it was overgrown), and after reaching a saddle, the next part was along a ridge top, which is my favourite type of hiking - nice views, usually some breeze, and as long as you're heading up, no route-finding issues (ridges only split on the way down). Assuming no gendarmes, and as long as it's not a knife-edge, it's a very relaxing way to hike.

Unfortunately, at one point one had to leave the ridge and contour across a slope, which would be fine except that the trail was completely overgrown. I have always erred on the side of going upslope to get around tricky bits or lost trails, because I hate to lose elevation and have to gain it back. The upslope part became steeper and steeper, and very loose, and I was scrambling a bit using my hands. That's when I heard the rattlesnake. It was probably neither as large nor as close as it seemed, but it was in the process of curling while looking at me, so I decided to lose some elevation quickly, what the heck.

Having gone too far upslope in search of the trail

By a stroke of luck, my rapid descent down the slope brought the trail back into view, well below me. I had assumed it would lead up to a saddle that I could see, but it continued well below that and across the face of another small peak before ascending the one I wanted. Live and learn.

There was some more tricky navigation to find the peak because of a considerable rock outcrop (the afore-mentioned gendarme) that I had to fnd a way around, but I arrived at the peak in good shape. That's when it started to hail.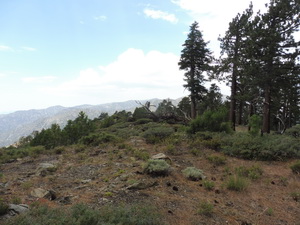 Storm clouds over Wild Mountain View.

Trail back a little destabilized by the precipitation

Unfortunately, the hailstorm was accompanied by thunder and lightning. Thunder I don't mind, but I'm not fond of lightning while hiking, especially along a ridge. Many of the big pines along the ridge were fire-blackened, which gives pause for thought. In my efforts to head back staying off the approach ridge, I ended up going well below the gendarme and having my second hands-assist climb up a slope of the day. This was made more awkward by constantly tripping over my poncho, but that was better than getting soaked to the skin, because by this time it had turned fairly cool and quite windy - not hypothermia-inducing, but very uncomfortable if drenched.

But then the skies cleared, it dried off, helped by a strengthening wind, and apart from a couple of places where traversing the slope was a bit sloppy, it was a good hike back. I was able to do the second peak of the day, Pine Ridge Summit, and I even found the correct trail all the way back to the trailhead, where the termperature had dropped to a pleasant 61 degrees.

Pine Mountain Ridge under clearing skies

Congratulating myself on an 8.5 mile day, with over 3,000' of elevation gain, I started back up the road from the campground. There had been quite a few cars, with families, when I arrived, but now there was one SUV with no-one in it. Approaching where I thought the stream crossing I had made on the way down ought to be, there was another SUV with no-one in it, pulled off to the side of the road. Then I realized I had missed the crossing, becasue the dirt road I was on ended. I backed down a ways, and slowly realized that where I had crossed no longer looked much like a crossing. There had been a considerable flash flood and the stream course had been rearranged. No cell reception, and no-one else around, so I pondered the situation. I walked across the streambed (now largely dry), measured the height of the wall of rocks along the bank, looked at the angles to get around the massive boulder right in the middle (which was not there in the morning), and decided to go for it. 4WD low and I have pretty good ground clearance, so what the heck. I had a serious case of drymouth when I reached the other side, and I made a pretty good score mark on one of the rocks, but I was back on the road.

The stream crossing did not look like that in the morning.

Unfortunately, the road was not quite in the same condition as when I had come down it that morning either. At one point, I came across a Honda CR-V that had been left in the road. I got out of the truck and realized why - there was a landslide at the top of the next rise in the road.

The landslide required a bit of digging out with a piece of wood, which, fortuitously, was plentiful in the landslide debris. I was able to lower the shoulder to the rightenough to squeeze by, albeit at an angle. I was just able to get passed the abandoned CRV by folding in my right-side wing mirror and tracking my progress on the left side, viv-a-vis a long steep drop-off.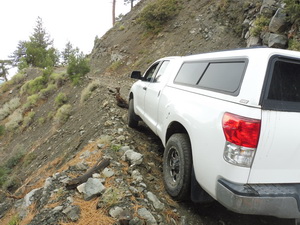 But I was able to make it out. At the top, I let emergency personnel know about the vehicles in the road and at the campground. There were several rescue and medical crews around, apparently there had been some injuries/stranded hikers. All ni all, I got off light, and it was a good day. I'll be happy not to have quite as much excitement on the next hike, though.

Negotiating a large rock in the middle of the road, too heavy to move and too high to go over